Amidst all the hooplah for the upcoming NFC Championship game between the Niners and Seahawks, I stumbled across this article on 11 reasons why San Francisco fans should think the Seattle Seahawks are the worst. I almost LOL'd when I read how tame and stupid these "reasons" were. I figured I had to comment on each one just to point out the absurdity.
1. They play in Seattle.


That's as original as you can get for reason numero uno? And then to link to an article about the reason Portland is better than Seattle doesn't do much to sell your point. I'm just… really? Really? I hope it gets better.
2. Wait, isn't that the Sounders' home stadium?


I know it might seem crazy, but yes the Sounders are such a popular team in the area they have been known to sellout the 68,000-seat capacity of CenturyLink field and average more than 44,000 fans per game. Nearly double that of second-best LA Galaxy with a little more than 22,000 per game and almost four times the average attendance of the Bay Area San Jose Earthquakes.
3. According to a lawsuit, Seahawks defensive lineman Michael Bennett abandoned a puppy at a boarding facility and caused it to have an emotional breakdown. A puppy emotional breakdown


Okay, there's not much I can say about this. Although it is pretty lazy to reference a lawsuit and then not link to said lawsuit. Why then would I even believe this propaganda? Oh, it is a real lawsuit. If you didn't know about this, don't worry, it only recently came to light and there could very easily be more information that hasn't been reported.
4. Seahawks rookie DT Jesse Williams tattooed "YOLO" on his face. Which… actually kind of has a poetic sense of irony on a level we're pretty sure he's not aware of.


What is YOLO but this generation's Carpe Diem? The only reason it's annoying is because young people rally around it and it started with a Drake song. Also, Jesse Williams was places on Injured Reserve way back in August before the season started. Why you got to hate on an injured player.
5. They're selling tickets to Sunday's game in Seattle to people who live in Canada, but NOT people who live in CALIFORNIA.


I'm not sure San Fransicoans are the best at geography if they can't understand that Vancouver, Canada is 142 miles from the CLink. That's only a two-and-a-half hour drive. Meanwhile, it's 470 miles from the CLink to the California border and 807 miles to San Francisco. Why then would we want to sell seats in the best stadium in football to Californians?
6. The fans created seismic activity a couple of times on Marshawn Lynch's TD runs, which is really not good for Seattle.


So, your "criticism" is to point out that the Seattle fans are so rabid and Marshawn Lynch is such a beast that we were able to move the earth during multiple Beast Mode runs? I'm not quite sure how that is a diss. Oh because some of our buildings might not withstand a major earthquake. Once again though, I'm not seeing the negative information here. Why would anybody dislike our fanbase because of how loud we cheer? Wouldn't someone not from Seattle want us to cheer louder to cause a bigger earthquake to then topple Seattle buildings? Now I'm just confused.
7. One of their best quarterbacks ever is only the second most successful Hasselbeck, after Elisabeth.


Once again, I don't see the logic as to why this "fact" would make San Francisco fans dislike the Seahawks. First of all, I doubt the liberal Bay Area is a huge fan of super conservative Elizabeth Hasselback. Second, I'm not sure why she's successful, because she's on TV or because she finished fourth on one season of Survivor? At least Matt Hasselback made it to the Super Bowl, made three pro bowls and was a starting quarterback in the NFL for 11 seasons.
8. This jersey.


I know a lot of people differ on their opinions of this jersey, but I loved them. People also hated the current Seahawks jerseys when they were unveiled a couple years ago and now those are heralded as one of the most popular in football. Plus, had the Seahawks not rolled out the lime green jerseys for a game we lost 25-19 in which Seneca Wallace was the starting quarterback and Olindo Mare missed two fields goals, I wonder whether opinions on the jerseys would be different.
9. Also, this jersey.


Okay, I'll give you the 12th man jersey, frankly I am just not a fan. However, I can say that the 12th man FLAG is where it's at. Look at how cool it looks atop the Space Needle.
10. Brian Bosworth: hairstyle icon, or Bebop from Teenage Mutant Ninja Turtles.


I'm going to go with hairstyle icon. I mean look at that picture, how cool does The Boz look right now? Well, not right now…back then. And since I was born in 1987 – the year Bosworth was drafted by the Seahawks – I don't have much ground to stand on when it comes to defending Bosworth. Seriously though, look how cool he looks.
11. Pete. F***ing. Carroll.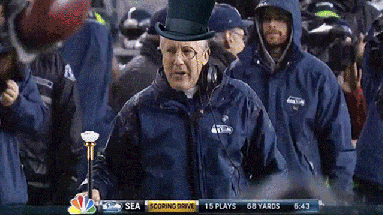 That gif says it all. Pete Carroll is the F***ing man! I'm sorry was this a post about how much Seattle sucks or how all the reasons the Seahawks are awesome? Nice try San Fran fans.