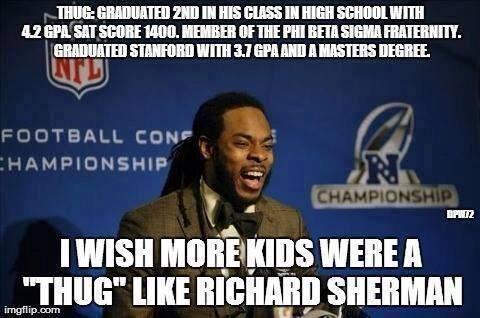 I think it's amazing that at the beginning of the year Richard Sherman agreed to write a weekly column for Sports Illustrated/MMQB and by the end of the season, not only is his team in the Super Bowl, he had become one of the most polarizing/popular players in the NFL. His jersey was the 10th-best selling jersey in the NFL this year.
If you've read any of his articles this year (my favorite to this point was his piece on concussions) you'll know that he is a very well-written, Stanford graduate who has provided unique insight into the mind of a top NFL player.
Last week, Sherman had the opportunity to respond to his haters following his postgame rant on Michael Crabtree. This week, Sherman used his column to show what he was able to learn during the past week of controversy, communication and criticism.
If you haven't read it yet, I suggest you do so now. If not, you can read what I found most interesting about it and then go read the column. Below are the my five takeaways from Sherman's column.
"If I could pass a lesson on to the kids it would be this: Don't attack anybody. I shouldn't have attacked Michael Crabtree the way I did. You don't have to put anybody else down to make yourself bigger.

Sherman's biggest regret following his postgame rant was that he took attention away from the other players who played a phenomenal game and personally attacked Crabtree. The last thing that he would want is for young kids to think what he did was cool and that they need to put down their opponents to make themselves feel better.

"Every time a game ends on a controversial call or somebody loses it on camera, it's free advertising for the NFL. It's not just my name being talked about on all the shows; it's the NFL's logo on all the shows."

It's easy for Sherman to see the bigger picture. He recognizes that his interview not only put the Seahawks on the national, non-sports radar, it also put the entire league in the spotlight as well.

"You're anonymous until you put yourself out there or show up in a big game. I did both."

In today's NFL, if a great player wants to be noticed for being great they often need to stand up and tell the world how great they are. It's how they follow that up that then determines whether the fans will buy in. When Sherman went after it with Skip Bayless he was standing up and saying he was the best in the league. Then he led the league in interceptions and proved his point.

"Maybe if I looked more acceptable in conservative circles, my rant would have been understood as passion. These prejudices still play a factor in our views because it's human nature to quickly stereotype and label someone. We all have that."

On Monday, following the NFC Championship, the word thug was used some 600+ times on TV and Sherman later said the use of the word thug is the modern form of the n-word – I do tend to agree with him. Sherman didn't swear and was not outwardly, physically aggressive (save for smacking his pads once or twice) and I believe that was intentional. It's not like he has no clue about race relations in modern America.

"We didn't paint the Super Bowl logo on the practice field or anything like that. We stuck with the theme of the program: Every game is a championship opportunity. We've been treating it like that for 22 games. He's been preparing us for this moment so that we wouldn't even notice we were playing in the Super Bowl."

Pete Carroll is the perfect coach to lead the Seahawks – this specific Seahawks team – into the Super Bowl. People criticized Carroll's decision to jump from USC to the NFL and after two failed chances with the Jets and Patriots, not many people thought the third time would be the charm. But instead, Carroll has put together one of the best young teams in the NFL without a bevy of high draft picks or agressive free agent spending. Carroll had success managing the talent and egos while at USC, it's no surprise then that he's had success in Seattle doing the same thing.
Okay it's time to read the full column now. Is it Sunday yet? #GoHawks.